Who has not been bursting, with Magdalena Neuner or Ricco Gross, Kati Wilhelm or Sven Fischer, when our Biathlon-Stars pumped a medal came to the final standing shooting. Now "just" shoot without mistakes … can not be that hard …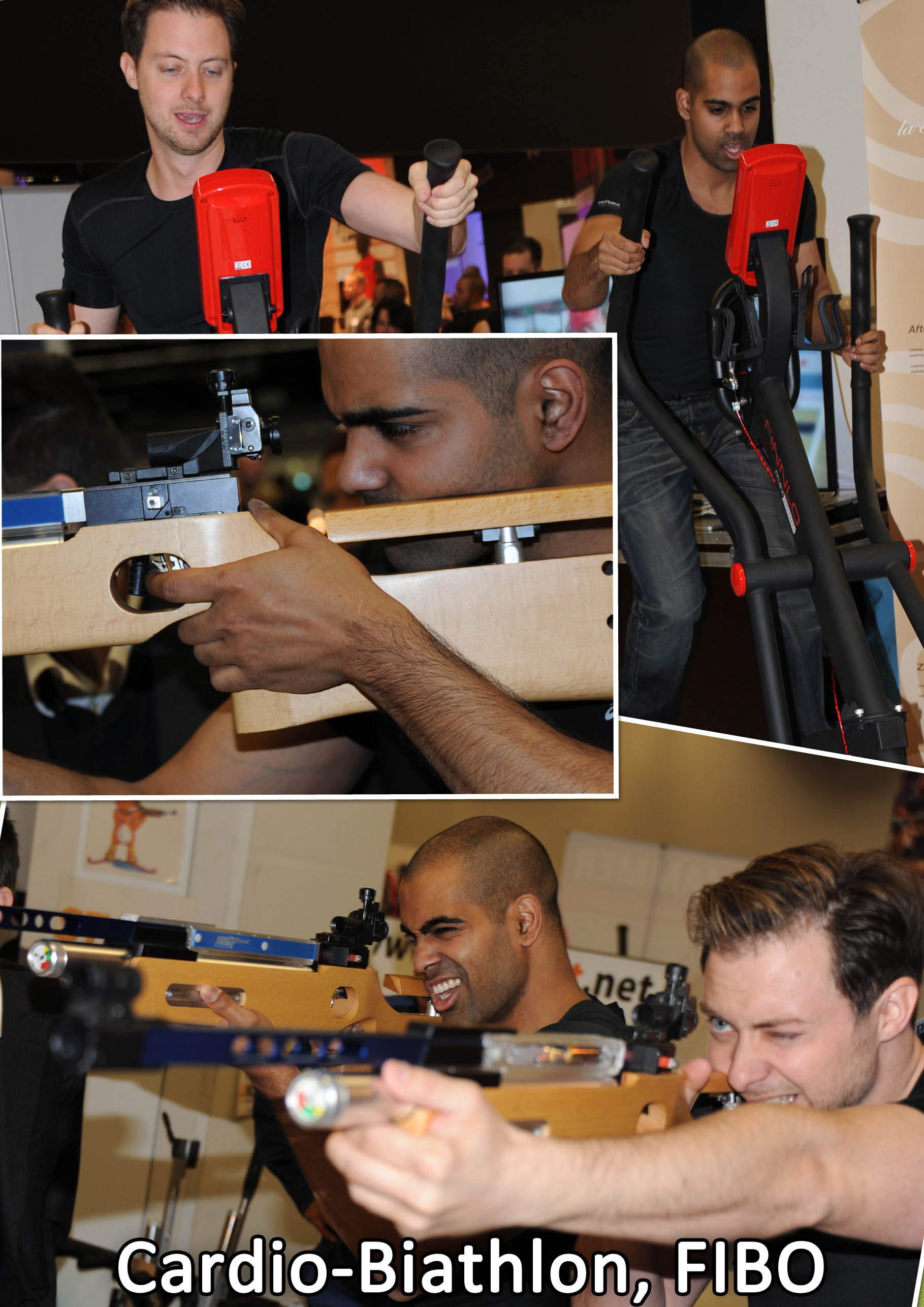 The magical moments of Biathlon…
The athletes struggle for the air, the pulse races, time is pressing. This magical moment is the champion bring forth. Highly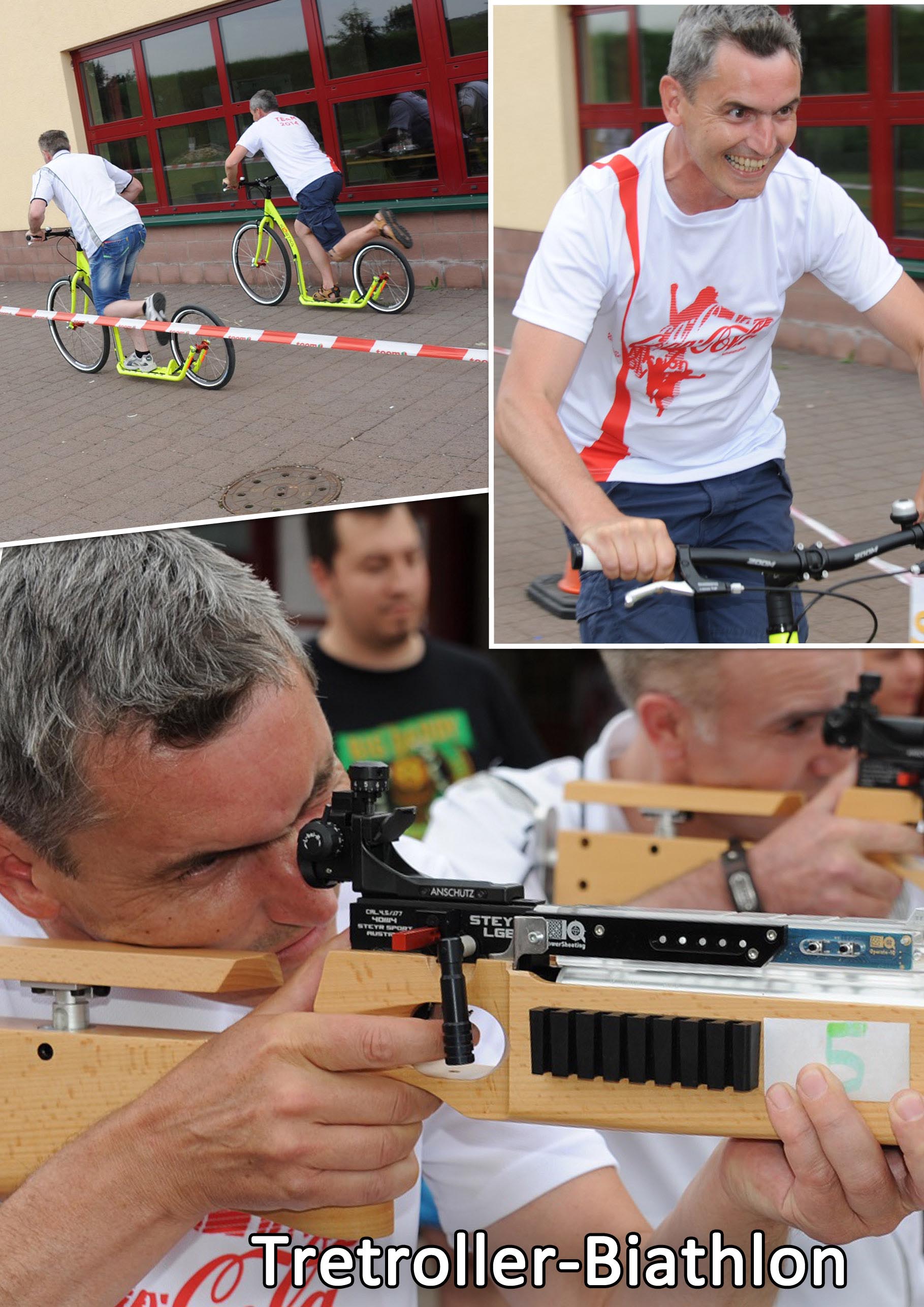 concentrated he controls his breath and quickly attained perfect peace of mind at the moment of maximum time pressure.
… as a live-experience of your promotion- events
The IQ-laser-shooting technology makes it possible now to be authentically experienced in ITS round this fascinating moment of self-control and inner championship.
To bring the olympic Sport BIATHLON as ORIGINAL and CHALLENGE to your, sticks the IQ-LaserBiathlon to the following quality criteria
1. The use of original biathlon rifles is the first identification of IQ‐Events (IQ-Equipment). Biathlon rifle sounds exactly like a real shot, even if it is shot only with (laser-) light. Unfortunately we refuse the widely used "Toy‐Equipment".
2. Lasershooting is Sportshooting! A LaserBiathlon can only mediate the authentic olympic Biathlon, when the used Laser-shooting technique is like you would be shooting with real ammunition. Klaus Kremer developed IQ-Lasershooting technique and enabled for the first time ever olympic shooting competition in London Olympic 2012 without ammunition (shooting with the pistol, modern pentathlon). YouTube Video
3. Quality of support. Every shooting place is supervised by IQ‐Events staff. For every participant is done short briefing about the original biathlon rifle and the technique of the sport-shooting. Our IQ‐Team itself consists of athletes who competed in their active time at the national and international titles. IQ‐Team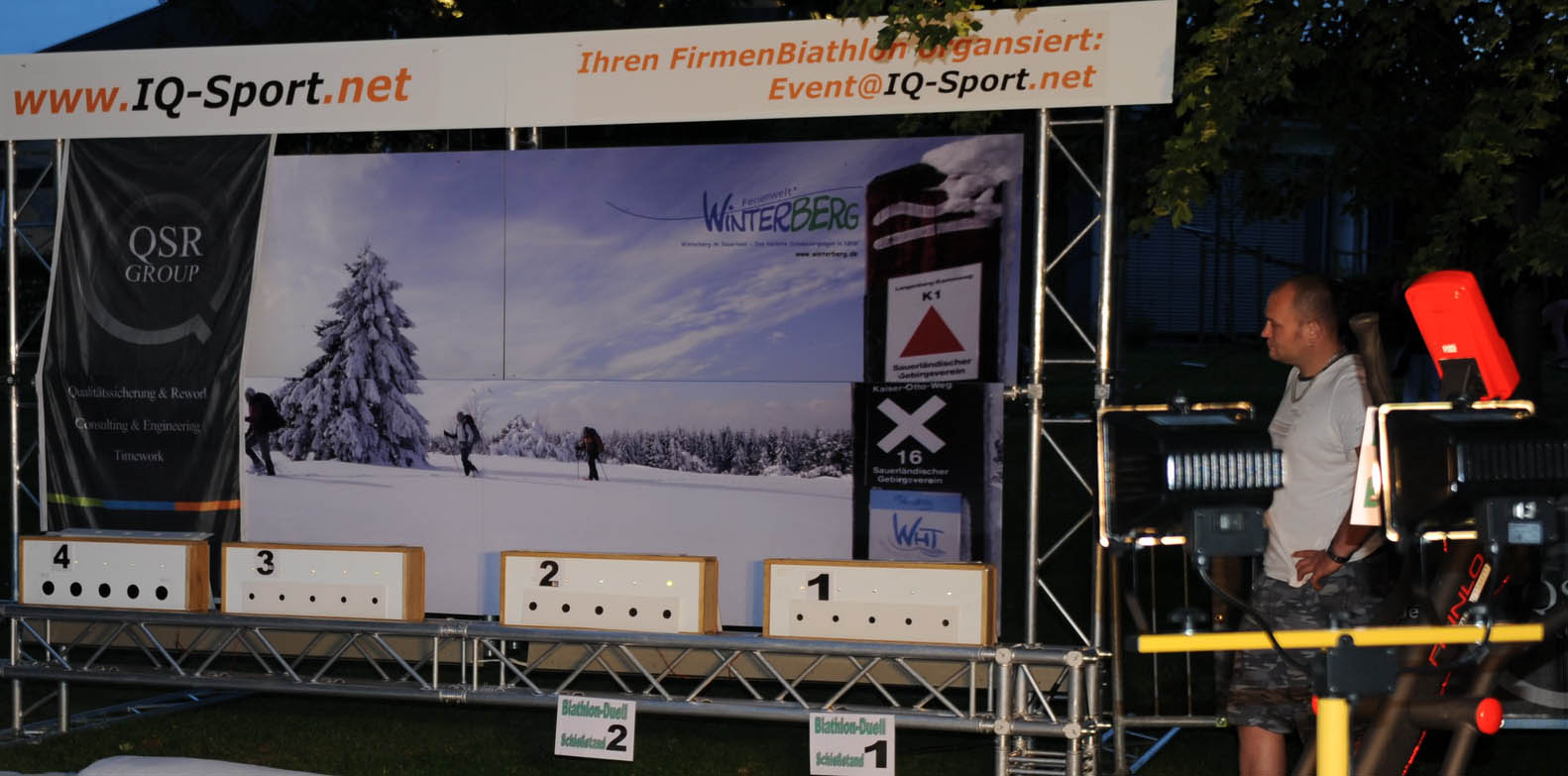 4.Variety of difficulty levels. For our participants we select from the variety of difficulty levels without having to wait for appropriate challenge. Beginners shoot with a constant beam on 60 mm‐target. Kids shoot with support or lying. Advanced receive the 40 mm‐target as a challenge and excellent shooter "work" up to the original‐biathlon-target (25 mm‐target at 10 m shooting distance). If you get infected by biathlon virus, then we recommend to participate on IQ‐day competition, which can be instantly disputed without long waiting.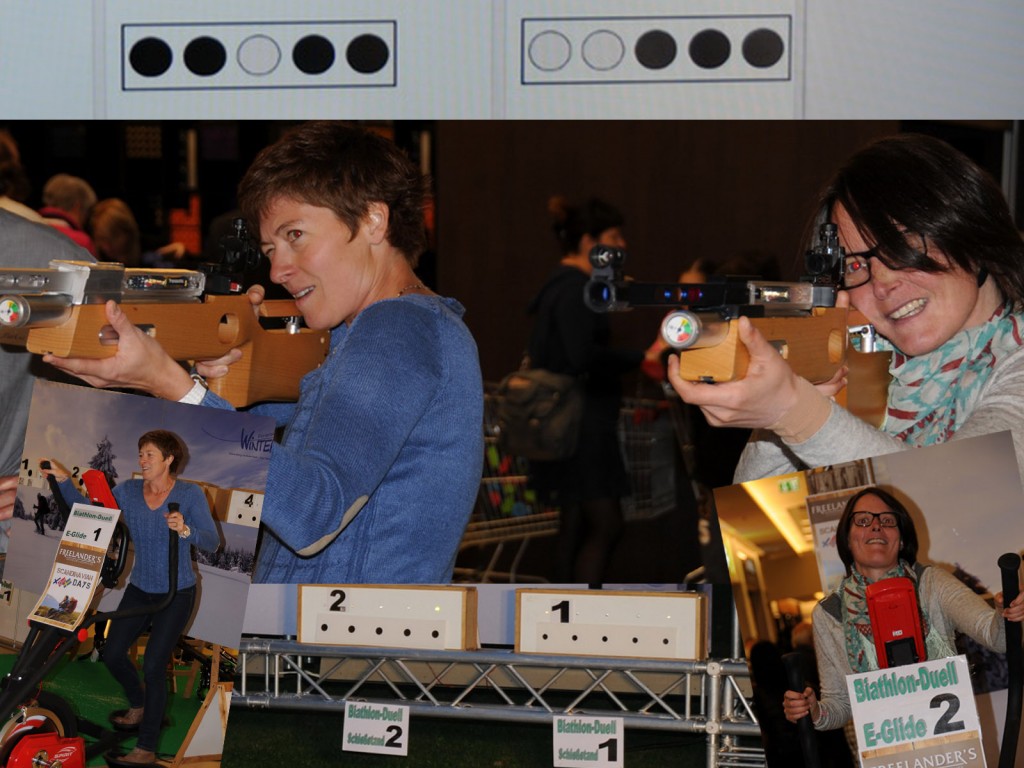 5. Competitive-charakter. Each of IQ‐LaserBiathlon‐Event, whether promotional, incentive, challenge, workshop or roadshow offers the opportunity to participate in one or even several days competitions. Indoor and on a small surfaces is places the cardio-sprint-biathlon the trail. The IQ‐Software is updates and communicate daily ranking list on the large-screen monitor. The magic moment of biathlon is thus experienced at every IQ‐Event.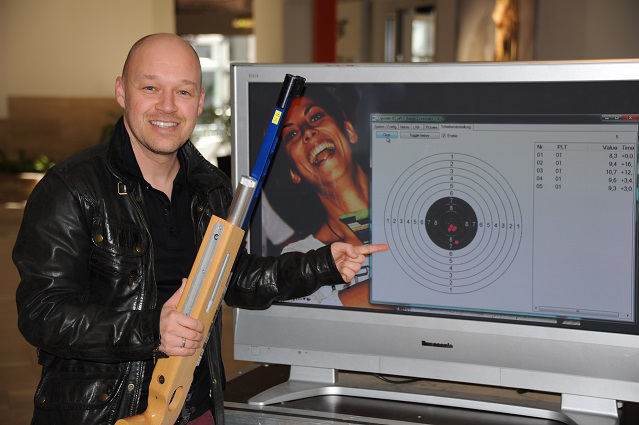 It is understandable if you do not want to spend a single drop of sweat (e.g. at conferences), then IQ‐Event nevertheless offers unique LaserShooting competition: the precision shooting on time. The goal of the precision shooting is to hit the IQ‐target on the 10er‐ ring disc with the accuracy of two post-decimal points. In competition are counted the first five hits in 30 seconds. One challenge with addictive nature.
6. The overall ranking. For the first time with the Biathlon on Schalke Tour 2015 offers IQ‐Sport on biathlon-tour.de a cross-competition ranking, a tour-ranking, which allows comparing participants from all day events of the tour.
7. Creative Biathlon-Portfolio. See the IQ‐Event‐Archiv for some inspiring biathlon game arts. In addition to the already mentioned cardio-sprint-biathlon and original‐biathlon, the IQ-Team hosted also Nordic cross skating-biathlon, beach-biathlon, Tretroller‐Biathlon, DogBiathlon and even complete winter games. We're still full of ideas: KletterBiathlon, KanuBiathlon, GeschicklichkeitsBiathlon. Fascinated by the challenge of "Precision under high load" in many game types.